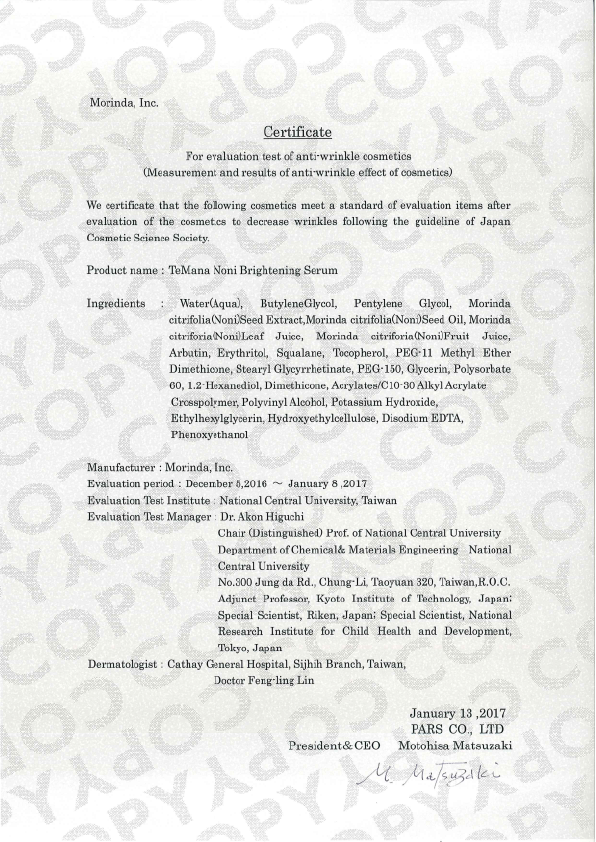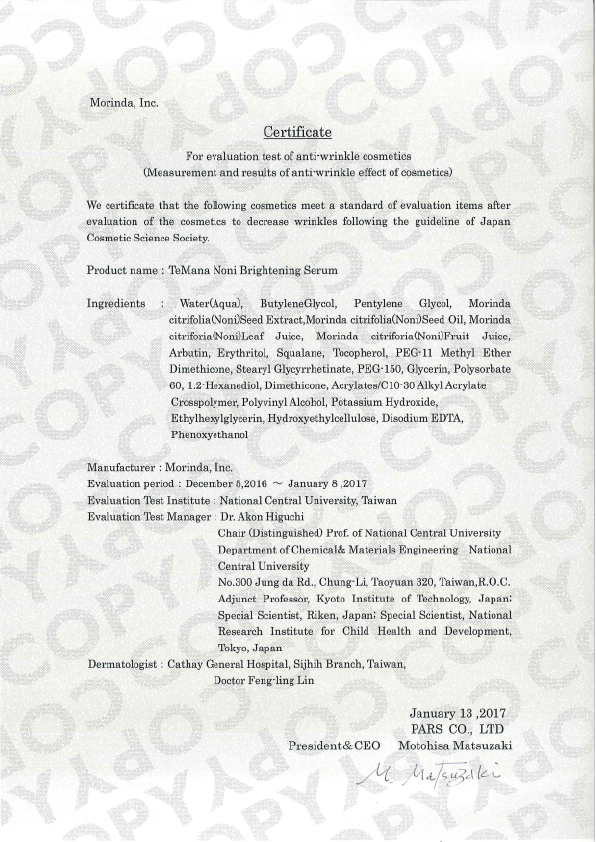 AMERICAN FORK, UT, 2017-May-19 — /EPR Retail News/ — Noni Brightening Serum, the featured product in Morinda's new TeMana brand, recently received certification as an "anti-wrinkle" product by an independent research group called the Japanese Cosmetic Science Society (JCSS).
Shon Whitney, Morinda's vice president of sales and marketing, called the recognition a huge achievement for the TeMana brand.
"We are honored that TeMana Noni Brightening Serum has been recognized by the Japanese Cosmetic Science Society, and certified as anti-wrinkle," Whitney said. "This is a big deal for our customers and business partners, and such a distinction from a well-respected organization speaks to our talented and dedicated product research and development teams in both Japan and the United States."
The Japanese Cosmetic Science Society tested the serum over the course of five weeks with a group of 15 women in their 30s, 40s or 50s. The women applied the serum both morning and night every day during the study. Using a grade scale and utilizing a 3D face scanner, the results showed that over half of the women reduced the appearance of fine lines and wrinkles over the test period.
Members of the JCSS, which include respected dermatologists, skin care experts and other researchers, collaborate regularly to test the claims of various cosmetic and skincare products. The results of their studies are published quarterly in the Journal of Japanese Cosmetic Science Society.
Noni Brightening Serum, along with the rest of the TeMana Noni Brightening line, launches on May 22. It was briefly available in January, 2017, as part of a limited-time offer. Since that time, Morinda has been overwhelmed with positive reactions and feedback.
"TeMana is a brand that we are extremely proud of," Whitney said. "We have invested many resources, including time, manpower and money, into the Noni Brightening line, and we are thrilled with the responses we've seen so far."